My favorite monster ever, from El Laberinto del Fauno.
I fully intend to walk around with my eyeballs in my hands one day. :D
El fauno, del Laberinto del Fauno.
This is the sort of thing that makes me want to get good with prosthetics.

Elsa Lanchester as the Bride of Frankenstein.
Can you say "hair envy?"
Sally from The Nightmare Before Christmas.
I don't know if she qualifies as a monster, but... whatever.
Celia from Monsters, Inc.
Love it, yes?
Medusa, a Gorgon, found here.
The whole snake hair thing is something I need to do someday.
I'm still figuring out the logistics of that. ;-)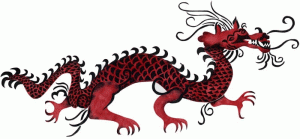 Chinese Dragon from here.

Kelpie from here.
I don't know what it is, but something about kelpies has always fascinated me.
Maybe it's the awesome combination of water creature, horse, and darkness that does it?
Probably.


I highly recommend clicking through to see this one full size. Furthermore, I highly recommend buying the book from which this image is taken. The book's text is just the famous poem Jabberwocky by Lewis Carroll, but the illustrations are by one of my favorite artists of all time, Graeme Base. I believe this to be his rendition of the wabe, complete with mome raths, borogroves, and slithy toves gyring and gimbling.

This is Graeme's Jabberwock. Click through to see it big. You really should.

These are Graeme's Jubjub Bird and Bandersnatch.
Fall in love. NOW.

If you find yourself incessantly looking up artwork and books by Graeme Base (I often do), you should definitely try to get your hands on Animalia. It is, hands down, the BEST alphabet book ever. I'm not kidding, I still read it. It's absolutely brilliant.
Another one of his that I recommend to art lovers but to riddle-solvers especially, The Eleventh Hour. Just do it. And if you're in the mood for more artsy-fantastic book recommendations from me, pick up a copy of The Invention of Hugo Cabret by Brian Selznick. This has nothing to do with Brian Selznick, but is an example of the flawless execution of a brilliant idea.

This picture is from the Wizards of the Coast archives, it appeared somewhere on one of their trading cards.
This is a banshee.
Excuse me, but Irish+Woman+Undead=Badass. All three of those are also Badass on their own, and I am proud to be two of them--Irish and Undead.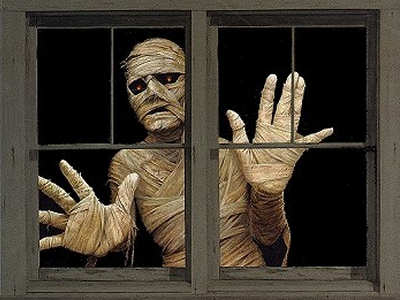 How could I forget the mummy? I think this is pretty self explanatory. Picture from here.
I've always wanted to write in my instructions after death to have me embalmed and mummified in the old way, just so I could see people's expressions when they find out they're supposed to pull my brains out through my nostrils and throw them away. However, given that I'd be dead and therefore wouldn't actually be able to see their expressions, I'm not sure if it's worth it. :-)

The zombie (found here) merits a mention, and I should mention that I'm a huge fan of all the zombie pinup artwork out there. Check it out.
 I think that's all for now.
<3 Lovely